How to Start a Hot Dog Cart Business

1 out of 10 people will lose their job in the next month.
What will you do if you're next?
Here's a fun and profitable back up plan that you can get started on today, part time and/or weekends.
Own your own hot dog business!
Congratulations, you've found the real deal. No B.S. No Hype.
Read this entire letter to find out more…
From: Steve Schaible, founder of King Weenie Chicago Style Hot Dogs, Daddy-O's Street Eats, Frank and Chips Hot Dogs -St. Louis
Dear Friend,
I was between a rock and a hard place…and the rock was winning.
A few years ago, I was working in an auto parts factory, hating life, and busting my tail for the boss so he could take his family to Europe, Mexico, or the Caribbean a few times a year. Even worse, the auto industry was in a slump. We could see layoffs coming and I wasn't sure if I would have a job from one week to the next.
Is your ability to earn money resting entirely in someone else's hands?
Mine was. I don't know about you, but I felt the uncertainty in my gut every single day.
Let me tell you how I took control…
One day I stopped at a hot dog cart for a quick lunch. I struck up a conversation with the owner and found out that he made a full time living working only 9 months a year.
Wow! As soon as I got home I started doing some research.
What I found out about the hot dog cart business blew me away…
Getting into this business can totally transform your finances and your lifestyle. And this is one fast business to start up. You can be living your new life, enjoying a dramatic increase in your income in just a couple of weeks from today!
Most days you can make anywhere from $200 to $500 or more just working the lunch crowd. If you use the "BIG SECRET" (more on that in a minute), you have the potential to multiply your sales.
That's $6000 to $10,000 a month with just one cart! I can show you all the tricks.
Some hot dog vendors only work big special events such as fairs, festivals, and sporting events. The pace is not quite as relaxed, but these gals and guys make anywhere from $1500 to $3000 or more in a single day.
I will show you all the specialized secrets of selling hotdogs at these events.
According to a recent Wall Street Journal article, many hot dog cart operators make more than $100,000 a year!
Hotdog cart operators don't work as much as most people, but their hourly pay is significantly higher. If you have the right location and you are willing to work, you will make money from day one, in fact probably more money than you are making now.
I decided right then and there to start my own hot dog vending business. I vowed that from that point on I would never be entirely dependent on someone else for my livelihood.
Here's the short version of my story…
I started out with one mobile cart in a strip mall parking lot rent free (I'll tell you how to get sites rent free!).
I only worked the lunch shift, 11 am to 2 pm.
My start up costs were less than $500.
I made money my very first day – and so can you!
Word spread about my little hot dog stand, and it became so popular that we created traffic jams in the parking lot! Within six months I was able to build a permanent hot dog stand – for less than $1500. I'll show you how, so you can do it too.
By the way, this part is optional. You certainly don't have to have a permanent location to be successful. You can just keep things simple, stick with a single hot dog cart and make fantastic money.
In fact, there are pros and cons to each method. You'll learn how to do it either way in this course.
That's my first cart on the right. I built it myself and if you want to build one too, I'll show you where to gets the plans and videos to do it.
I didn't start out planning to build a permanent stand, it just kind of evolved as I went along…
The good news is – you have two great ways you can go. I'll let you in on all the tricks and secrets of both – carts and stands. In fact, there are pros and cons to each method.
By the way, I stumbled upon the incredibly fast, easy and low cost way to build a permanent hot dog stand by pure accident. I never would have figured it out on my own.
But I want to give you access to this knowledge today. This is information you won't find anywhere else, not even on the internet.
In a short time I had five unsolicited offers to buy my business.
I loved selling hot dogs and I loved my newfound freedom even more, so I had no intention of selling – until I got an offer so good I'd have been crazy not to take it.
The timing was right for a mini retirement, and I sold out to some really nice folks who are happily running King Weenie as a family business to this day.
I'm spilling my guts…
I'm going to show you exactly how I built two successful hot dog vending businesses, and how you can do it too. With the release of this course it's finally possible to get started the easy way, step by detailed step, while avoiding the many mistakes I made.
You don't have to learn the hard way.
I'll tell you all the insider tips, tricks, and secrets that can mean the difference between success and failure – secrets that you may never discover on your own.
I want to give you all of that knowledge and more, so that you have every cash generating tool you need before you put up your umbrella for the first time.
Here are just some of the things you'll learn in my new Hot Dog Biz 101 interactive course:
How to

get started

with very little money.

Under $500

in some cases!
How to comply with health department regulations.
How to cook the best hot dogs around and build a raving fan base
How to set up your business legal structure, keep your books, pay your taxes.
Where to buy your food and supplies.

How to set up a permanent Hot Dog Stand for less than $1500.

How to advertise.
How to get free umbrellas, signs, marketing materials, etc.
and much, much more. Including (drum roll please)…
My Biggest Secret
I obviously can't tell you here, but there is ONE thing that you can do to explode the profits from your hotdog cart. It's so simple that I can't believe more vendors don't do this.
It's actually ten times easier than selling hot dogs, which is about as easy as it gets.
I know for a fact that you've seen it in action. I'm willing to bet that you have fallen under the spell of this big secret over and over again, causing you to spend hundreds of dollars that you had no intention of spending…
You just don't realize what's been happening, right under your nose.
This one technique can make all the difference – and a TON of money…
Using the the big secret at your hot dog cart could double or triple your sales.
I'm laying everything out on the table, no holding back. I want to teach you everything I know about starting and operating your own fun, exciting, money making hot dog cart business.
You can benefit from my experience and expertise. You don't have to learn the hard way. It's all right here…the easy way.
Hot Dog Biz 101 includes not one, but TWO great books, THREE hours of quality audio instruction, and all the forms and contracts you need to run your hot dog biz.
Two great books in one.

This is the book about the day to day operating procedures, the nuts and bolts, the how-to's. In it you'll learn all the well kept success secrets that the other guys don't want you to know.
I've made it "paint by numbers" simple.
You'll get a step-by-step Action Plan which walks you through each and every task necessary to get you up and running. This 27 point action plan breaks down the entire start up process into easy to accomplish mini-tasks.
From start to finish, you're sure to be on track as you accomplish each task in the correct order. Follow the action plan and you'll have all the bases covered.
You get all the checklists and paperwork you need to make things run smooth.


I'm giving you all of my personal checklists that I use in my business including:
Sample Catering Contract
Daily Cart Inventory
Cart Safety Inspection Checklist
Set Up Checklist
Tear Down Checklist
You will find all of these forms throughout the Carts of Cash manual. You have my permission to copy them and use them in your own hot dog cart business. These checklists and contracts will streamline your daily operations and help you win those lucrative catering gigs.
Here are all my sources for the products and services you'll need.
Where's the best place to buy buns? The answer will surprise you. How about soda? Probably not where you're thinking (definitely not Sam's Club). You'll find the answers to these questions throughout the manual, but I decided to go one step further and give you my resources and suppliers directory.
In it you'll find links to trade shows, industry groups, financing sources, books, magazines, and just about anything that pertains to optimizing your hot dog cart business.
Check out the Table of Contents:
Part One – Introduction
CH 1 Overview
CH 2 Self Employment
CH 3 Start-up Considerations
Part Two – The Ingredients of Success
CH 4 Location, Location, Location…or Not!
CH 5 Special Events
CH 6 Catering
CH 7 Marketing, Advertising, and PR
CH 8 Building your Brand
Part Three – Equipment
CH 9 Hot Dog Carts
CH 10 Other Equipment and Supplies
CH 11 Turn your Cart into a Restaurant and Double your Sales
CH 12 Daily Operations
Part Four – The Food
CH 13 Food Safety
CH 14 Dogs, Chips, and Soda – The "Perfect Meal"
CH 15 Food Prep, Cooking, and Condiments
CH 16 Purchasing your Inventory
CH 17 You Must have a Commissary…or Maybe Not!
CH 18 How to Make the Health Inspector Fall in Love with You
CH 19 $THE BIG SECRET$
Part Five – The Paperwork
CH 20 Licenses, Permits, and Sales Tax
CH 21 Insurance
Part Six – Expanding your Empire
CH 22 Multiple Cart Management
Part Seven – Resources
Action Plan
Resources and Supplier's Directory
Is that everything? Not by a long shot.
After I finished writing the first 170 pages, I sat back and said to my self, "Self, if you were starting out today with no previous
experience, would this book answer all your questions?"
I thought long and hard. After all, I had just spent months writing 170 pages of the best hotdog cart information available anywhere! I wanted to say "YES!" I wanted to be done writing. But I had to be honest…
What about the business end of the business? As tired as I was, I had to write another book for you! This one would cover everything that a newbie would need to know about handling all of the cash that comes in every day.
Book 2: "Carts of Cash – Business Management Made Easy"
The second book in the Carts of Cash series is the result of my own experience plus hours and hours of interviews with bookeepers, accountants and a MBAs.
I know for a fact that you won't find this information anywhere else, especially as it pertains to the hot dog cart business.
Don't confuse this with the $14 ebook "Business Plans" that are out there. Those are just 9 or 10 page, generic documents with the words "hot dog cart" or "day care center" inserted in the blanks. Totally worthless.
I'm also giving you all of my hot dog cart business bookkeeping forms which include:
Income Ledger
Year End Income Summary
Expenditure Ledger
Year End Expenditure Summary
Sample Profit and Loss Projection
Sample Cash Flow Projection
And I explain exactly how to use them in easy, non technical language. If you want to use a computer to keep your books that's great, but knowing the basics of bookkeeping will make it all the easier.
In my 80 page business management book you will learn:
How to set up your business
Find financing and leasing sources
Keep your books
Manage your cash flow
Hire employees
Pay your taxes.
I've even included a BONUS section on motivation as it applies to the
growth and success of your hot dog cart business.
At 80 pages long, the business book alone is bigger than all of my competitor's entire books!
Table of Contents:
CH 1 Business Legal Structures
CH 2 Business Start-Up Requirements
CH 3 Bookeeping and Accounting
CH 4 Understanding Financial Statements
CH 5 Taxes, Employees, and Professional Services
CH 6 Motivation, Inspiration, and Self-Improvement
With the addition of "Carts of Cash – Business Management Made Easy", I am offering a truly complete base of knowledge for anyone who wants to start and successfully operate their own hot dog cart business.
Just Released – Carts of Cash Audio Recordings
Now you have a convenient way to study while driving to work, taking a walk, or exercising at the gym. Three hours of content! The entire course has been recorded in high quality digital audio. Very popular with our customers who spend a lot of time behind the wheel!
These audio MP3s were not originally part of the Carts of Cash course, but I had so many requests that I decided to include them. As a matter of fact I did a little research and found out that audio learning enhances comprehension significantly. Listen to the recordings several times and you'll be surprised at how much you retain.
I am very proud of these books and audio recordings and I know you will be proud to own them, use them, and start making BIG MONEY with hot dog carts.
This course can change your life. Let's think about the possibilities.
You could…
Sell hot dogs part time for that much needed extra cash…
Work fairs and festivals on weekends and make thousands…
Transition into a full time business when the time is right…
Make $100,000 a year or more…
Get your kids out of daycare…
Fire your boss…
Work less hours…
Eliminate your stress…
Take more vacations…
Spend more time with loved ones…
Travel…
Meet new exciting people…
My Favorite Success Story . . .
John A. used the Hot Dog Biz 101 materials to start his own hot dog cart in Iowa. He made $90,000 in his first year and is looking to easily break the $100,000 mark in the coming year.
John owned a chain of car washes and he told me yesterday that one hot dog cart out-earns a car wash, even though the start up cost of a cart is 1/40th that of a car wash. Wow!
I'm not trying to pump you up with false hopes – not everyone achieves this level of success this quickly. But you can certainly expect to make a great living if you work hard and smart, and John shows just what can be accomplished in this fantastic business!
Hot Dog Biz 101 has become the standard training course for the industry because it's simply the best.
I've sold a LOT of copies of my Hot Dog Biz 101 course over the years and no one in this business has a better track record of customer satisfaction.
I'm extremely proud of that. There just isn't anything else that even comes close. Not at any price.
But don't listen to me, listen to my customers…
Audio: $150K Per Year Hot Dog Cart Business
I got an email from a woman named Rose asking me if I would list her hot dog business for sale.
After I heard her story I was dying to share it, so I interviewed her for my Hot Dog Cart Radio show. Find out what can be accomplished with a hot dog cart and some hard work. Click the arrow below to listen…

Let's Get Your New Business Started.
We believe that everyone deserves a chance to improve their financial situation, and that owning your own business is the fastest way to do it.
You know that hot dog carts are the easiest and least expensive way to start a business with a realistic expectation of earning $100,000 a year or more.
You've thought about it a lot, you're excited, and you know you can do it.
We're excited for you too…  Let's get started!
UPDATE: Hot Dog Biz 101 and Carts of Cash are now part of my new Hot Dog Profits Premium mega-course!
A Hot Dog Profits Premium Membership gives you instant online access to "Carts of Cash" plus all of the Top Mobile Food Vendor Training Programs for less than the price of the "Carts of Cash" book alone!
PLUS – When you join HDP Premium you can get personal help whenever you need it. You are never alone!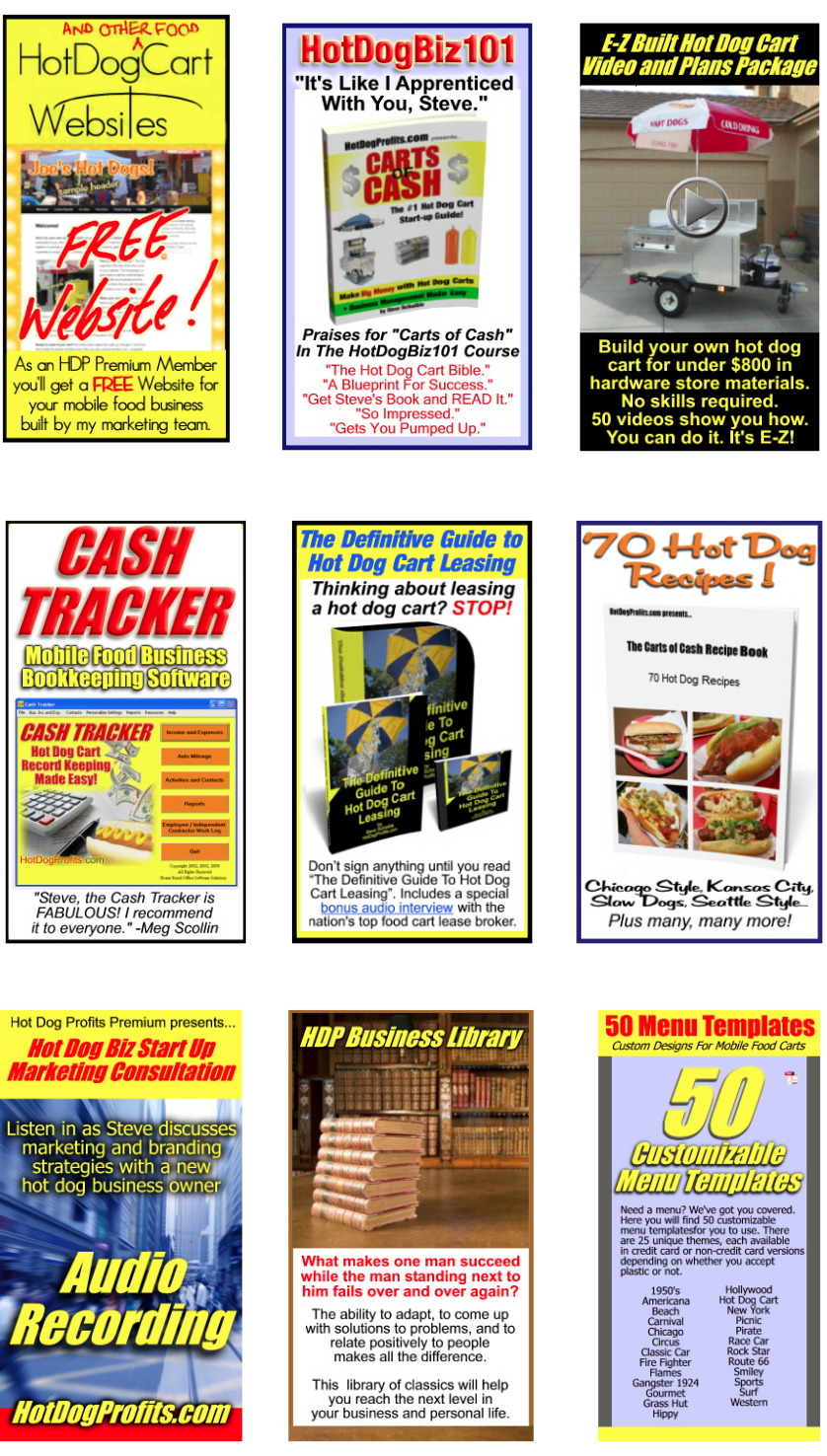 You Get Instant Online Access to…

| | |
| --- | --- |
| | Carts of Cash 2 Volume Start Up Guide – 250 pages. How to start, run, and grow your hot dog business the right way. |
| | Carts of Cash Audio Recordings – 29 audios. Listen to Carts of Cash wherever you go. Mobile device compatible! |
| | E-Z Built Hot Dog Cart Video and Plans Package – 61 Videos and printable plans + health department schematics. Build a professional cart for $799 using hardware store parts. |
| | A Day at the Hot Dog Cart Advanced Video Training – 60 training videos shot live on-site at a working hot dog cart. Get schooled by Dale, a HDP Premium graduate who is now running two carts in Reno Nevada. |
| | Free Custom Website For Your Business – Our marketing team builds and installs it for you. |
| | Cash Tracker 5 Day Trial – Mobile food business bookkeeping software. Keeps your books with the click of a button. |
| | Definitive Guide to Hot Dog Cart Leasing – Should you lease or buy? This course gives you the answer. |
| | 70 Hot Dog Recipes – Never run out of ideas for tasty creations. |
| | Hot Dog Biz Start Up Marketing Consultation Course  – Listen in as I conduct a private one on one hot dog business marketing consultation. |
| | 50 Menu Templates – Customizable menus for you to use. |
| | Accessory Discounts – Members get the lowest prices on chip clips and dog sleds. |
| | Hard Copy Discounts – Want hardcopy books, CDs, or DVDs shipped to your door? Members can get hard copies at a huge discount, but most folks find they don't need them. The online courses are actually bigger. |
Click Here to go to the Hot Dog Profits Premium Website.